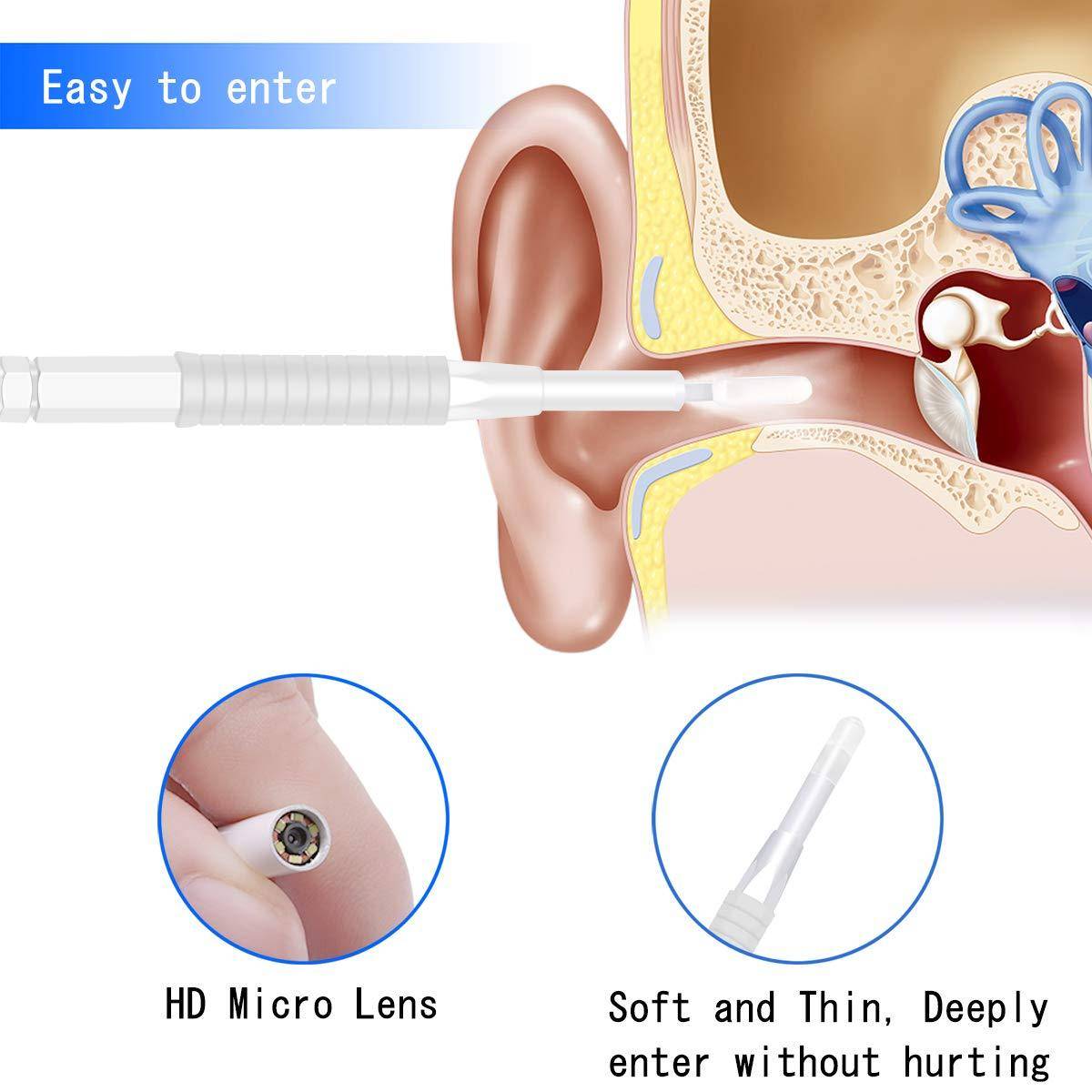 Perfectly Inspect Nose, Oral, Blackheads, Ears and more
Great before exercise to stretch and prevent injuries. Amazing after a workout for recovery. Increased flexibility and mobility, it will help break-down tightness and adhesions, it gives a deep-tissue massage, it will help increase recovery times and prevent injuries after tough workouts, it will enhance joint health, and also encourage circulation.
Avoid Expensive Doctor Bills
Avoid expensive doctor bills, the EarTactic USB Ear Wax Remover is easy to use at home.
Simply put,this is a high-definition visual ear canal cleaning tool, which includes a 5.5 mm diameter mini camera and some interchangeable accessories, refusing to be blind, no longer bothered, just enjoy the most comfortable experience, you can take pictures and record, save on your device.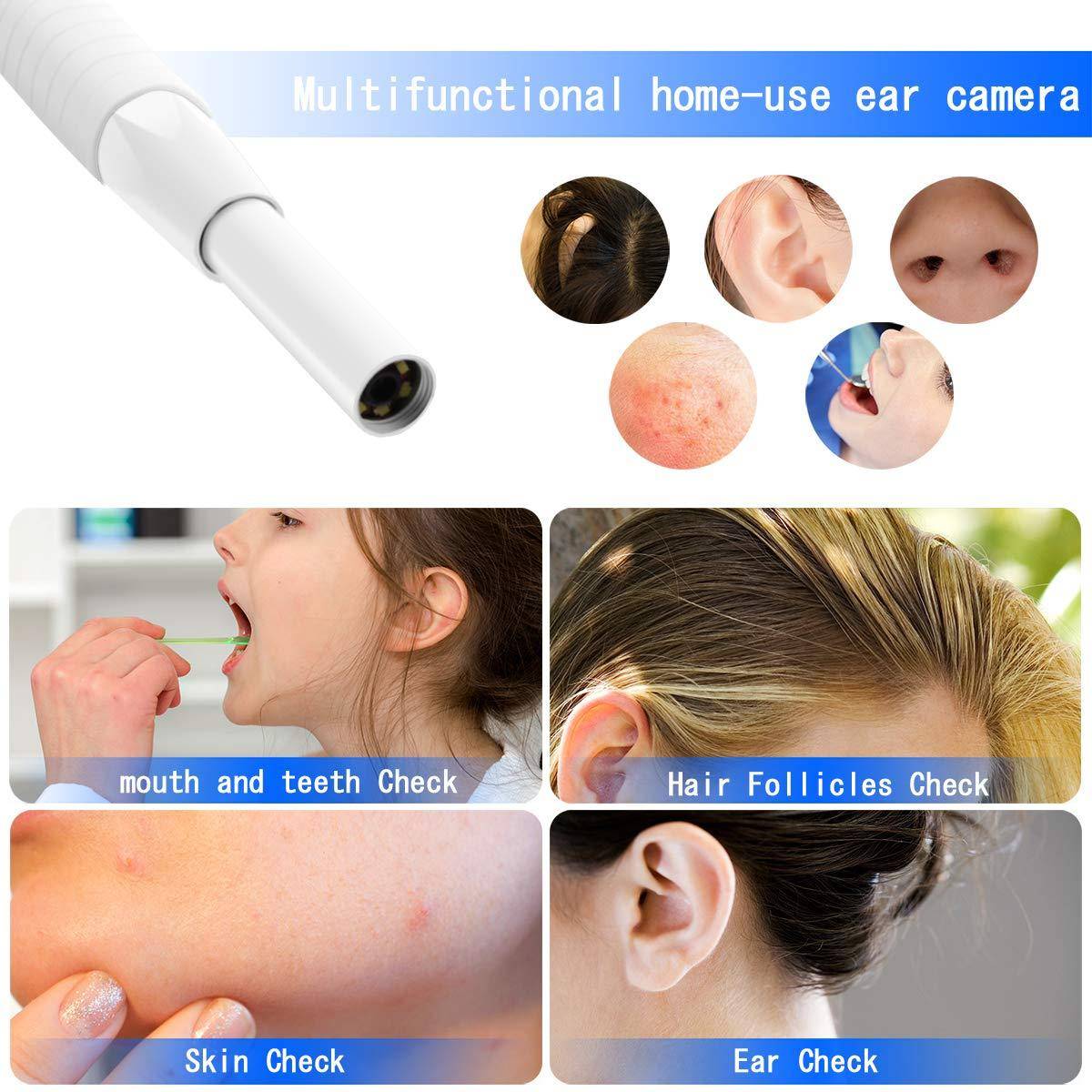 COMPLETE KIT EARPICK ATTACHMENTS
Designed with a waterproof HD camera, you can clean your ear with one hand operation and inspect the canal conditions displayed on the portable monitor through the photoelectric signal transmission.
Give light to your ear canal
Adjustable LED light enables you to see in hard to reach parts, improving the image quality in the darkness.
Package Includes:
1 x Pen Camera Otoscope
2 x Earpicks
1 x Cleaning Cloth
1 x Protective Sleeve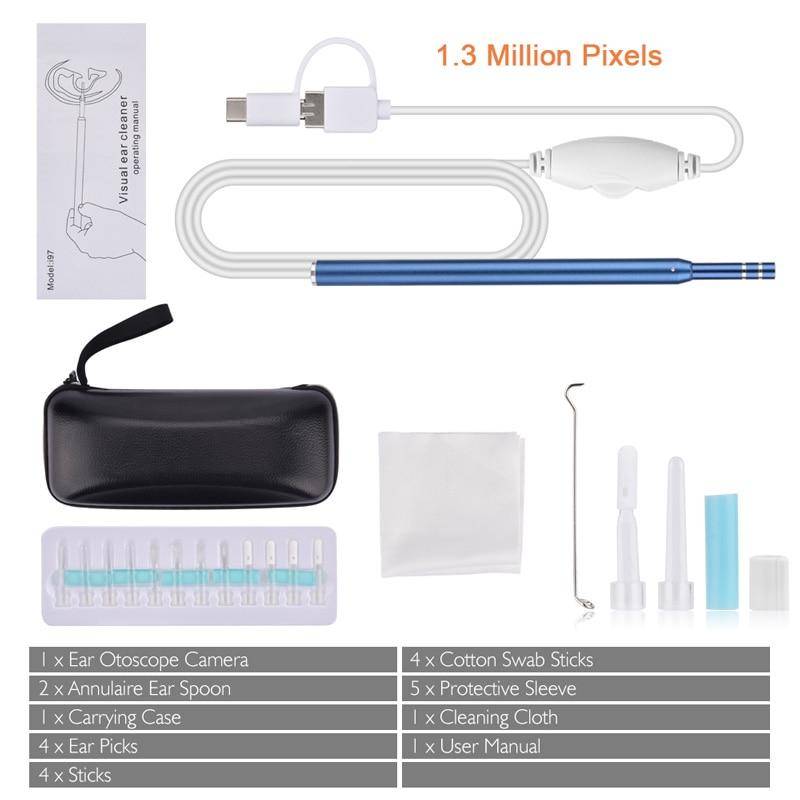 Over 5,350+ customer used , love our EarTactic and talk about us on over the world.
So what started off a spur of the moment purchase because it was on sale on Cyber Monday as a Lightning Deal, turned out to be a pretty interesting story. My package arrived a couple of days after ordering so I decided to play around with it. I downloaded the endoscope app with the most ratings on the list from the Google Play store into my Samsung Galaxy S7 edge phone. I initially thought the connection from the endoscope wasn't compatible to the phone after trying to connect it but if you push hard enough, it does fit. We started checking it out and playing around with checking everybody's ears. I have 4 little ones so naturally everyone is very excited and having fun looking in their ears. I have to say that using the black cone connections was the best and easiest to use. I used the scope without any attachments and the picture seemed more blurry and more uncomfortable. Using the black attachment was more comfortable with the kids. The little scoop attachments were very uncomfortable and for some reason was not able to get in the ear the same distance as with the black attachment so I think may be a little useless if you need to reach further into the ear. Well low and behold we are looking in my 7 year old son's ear when we come across what looks like a spider in his ear! You can see the uploaded pictures. Well we spent hours and hours trying to figure out a way to get it out using the scope non stop. Not to fret! At the end of the night my son was able to use a pair of tweezers to gently pull out what looks like a piece of local weed LOL. Needless to say how relieved we were when we figured out it wasn't a dead spider. Saved us a trip to the Doctor for sure!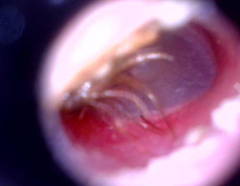 In the past, I've had a problem with excess ear wax build up and have had nurses irrigate my ear to clear it out. There are over the counter drops to basically do the same thing, but the problem was I never knew if I needed to use them and if they were doing anything. This camera helped with that.
While it came with an adapter to hookup it up to my smartphone, I used it on my PC so I didn't have to download an app. It worked flawlessly right away. I just plugged the camera into my computer's USB port, waiting 30 seconds for Windows to find it, and then opened Window's built-in Camera app. It instantly found and showed the camera.
The camera itself has pretty good image quality. Because the lens of the camera has to be pretty small to fit in your ear, don't expect stellar, hi-def image qualify, but I could clearly see my ear drum. The LED lights on it can get warm but they are adjustable with a built-in slide dimmer.
The tool comes with 3 adapters to use in your ear and make sure you're not scratching it and 3 scoops. I was very afraid to use the attached scoops because I didn't want to damage anything. When I did see a blockage in my one ear, I then went an used ear wax drops and a syringe to irrigate my ear. Then when I used the camera again, I could see the blockage was reduced.
Overall, it's a pretty good product
30-DAY 100% Money-Back Guarantee
FREQUENTLY ASKED QUESTIONS
What's the diameter of the camera tip?
Diameter:4.3 mm(0.169 inch)
Would I be able to identify an ear infection with this one?
"You might be able to identify inflammation or irritation but you can't see an infection if you don't know what you are looking for. You also can't see individual bacteria or very small number of them. Seeing it with this doesn't give you the ability to prescribe medicine for it. Go to the Dr." - Kristina
Will this work on my Samsung Phone?
We support android phones and is compatible.
Can I fit the camera and a tool to remove wax at the same time?
"Yes my wife uses the tool included with the camera to scoop unwanted wax seen via the camera."
What about shipping and delivery?
Shipping time varies depending on your location.
Typical delivery time ranges from 2-7 Business days.